We can meet all your cabling requirements.
From adding additional cabling in existing set-ups or relocation of existing systems to installing cabling in new buildings.
We offer a range of services which include: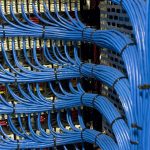 Design and installation of new networks
Quality Products from Excel
Cat5, Cat5e, Cat6, Cat6e, Cat7 UTP and STP
Voice and data integration
Concealed cabling
New points added to an existing network
Data cabinets changed/fitted
Fibre optic cabling installations
Moves and changes
Voice/multicore telephone cabling
RingTail are experienced in traditional cw1308 (voice) cabling and CAT5, CAT6 & CAT7 cabling. We can provide a full data cabling service including voice and data integration.
If you require additional network points or moves and changes, our service is second to none. Our engineers are highly qualified; they take pride in their work and complete installations with the minimum of disruption.
Contact us for free advice